GameStop Black Friday 2014 Ad Leaked.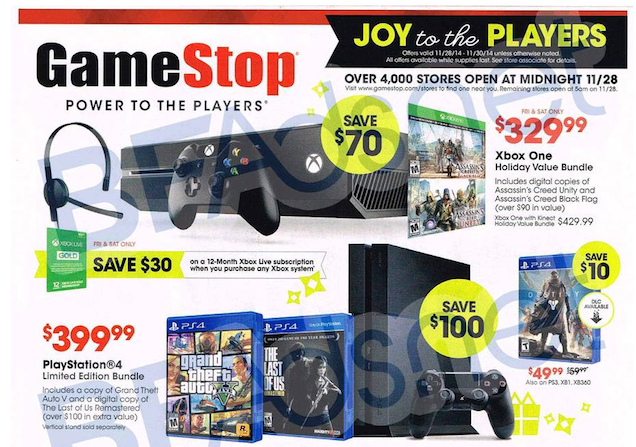 Let's take a minute to be grateful for Thanksgiving's annual traditions: turkey, football, and GameStop's Black Friday deals leaking before they're supposed to go live.
This year's deals include a $400 PS4 bundle with GTA V and The Last of Us, games like The Evil Within and Madden 15 for $30 each, and a $330 Xbox One Assassin's Creed bundle that comes with digital versions of Unity and Black Flag.
Other decent deals: Shadow of Mordor (PS4) for $30, Tales of Xillia 2 (PS3) for $20, and some heavily discounted headphones, among many others.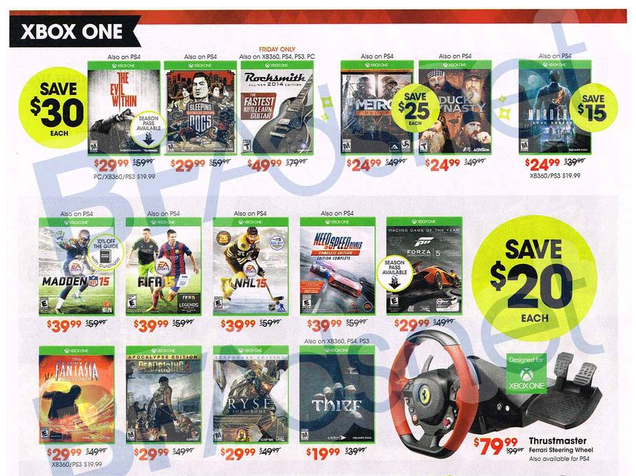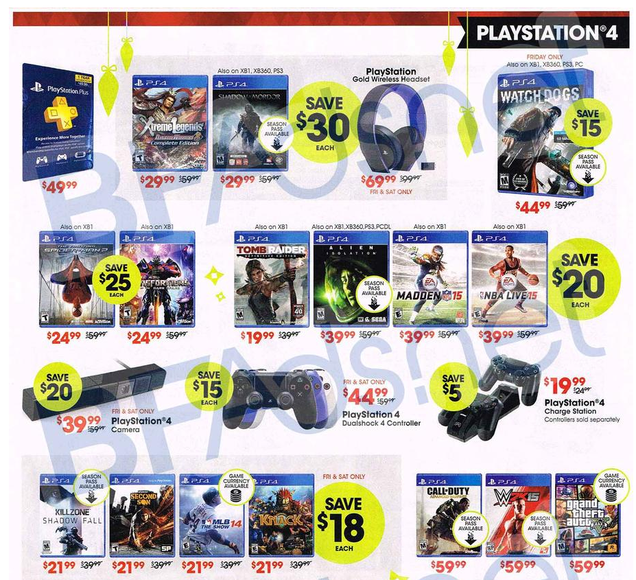 Here are few of the highlights worth checking out:
Xbox One Assassin's Creed Bundle – $329.99
PS4 Limited Edition Bundle w/ GTA V and The Last of Us Remastered – $399.99
Xbox One Official Wireless Controller – $44.99
Xbox Live Gold 12-Month Subscription – $49.99
PS4 DualShock 4 Controller – $44.99
Destiny (PS3, PS4, Xbox 360, Xbox One) – $49.99
Over 4,000 GameStop locations will open at midnight on November 28th while all the remaining stores will open at 5 a.m. Most offers are valid until November 30th, but some deals will expire after 24 or 48 hours, so be sure to check the full ad to make sure you don't miss out on the best deals.